WOMEN'S HISTORY IN THE MAKING
HISTORY OF WOMEN & MOTORCYCLING
---
MAKING THEIR MARK:
Women motorcyclists from the early years to today.
Women have been riding motorcycles as long as men, and the exploits of some women riders are just as daring and mind-boggling as those of their male peers. Remember, in the early days of motorcycling -- around the late 1800s and early 1900s when motorcycles were little more than bicycles with motors attached -- Americans bought the machines for transportation, not recreation. Families could afford motorcycles at the time, but not cars. So it wasn't all that uncommon to see women riders. After all, the price difference between a motorcycle and a car was substantial. For example, in 1909 a Harley-Davidson motorcycle cost about $325. And an inexpensive Ford Model T car that year? Try $850. Put another way, the price of a Model T equaled about a year's salary. But through assembly-line production, Ford got the price of a Model T down to $440 in 1915, putting a car within reach. The price dropped to just $380 in 1927. More and more cars were sold, and fewer and fewer motorcycles. Since that time, motorcycles were bought primarily for recreation, and primarily by men. Pioneering women riders did make their marks in the motorcycling world, however, including Augusta and Adeline Van Buren, Theresa Wallach and Bessie Stringfield. The Van Buren sisters were among the first to ride coast to coast, traveling aboard an Indian Power Plus in 1916. They were the first women to ride motorized vehicles to the summit of Pikes Peak, accomplishing that feat in the same year. In the 1930's and 1940's, Theresa Wallach of England became well known for racing and long-distance riding, besides serving as a dispatch rider for the British Army during World War II. Back in America, African-American Bessie Stringfield made eight solo cross-country trips during the 1930's and 1940's and rode her motorcycle in the Deep South at a time when it wasn't safe to do so. Dot Robinson, meanwhile, rode, and raced, in the 1930's, 1940's and 1950's. In fact, she is credited with opening the door or women in organized motorcycling competition. Following World War II, increasingly more women got involved in motorcycling. Margaret Wilson is one of those, and she has logged more than 550,000 miles on motorcycles, showing that women are just as passionate about the sport as men. In the modern era, now-movie stuntwoman Debbie Evans is considered a pioneer in observed trials competition, a sport that calls for expertise on a narrow, marked, twisty maze of a course. She successfully competed in U.S. trials in the late 1970's. These are all women who have made significant contributions to motorcycling, and who have earned places in the AMA's Motorcycle Hall of Fame. There are other women today who are also making their marks, such as Ashley Fiolek in motocross and Leslie Porterfield in land-speed record competition, who may, one day, earn their own spots in that hallowed Hall. Fiolek,18, began riding 50 cc mini cycles at age 7. In 2008, in her rookie season, she earned the No. 1 plate in the Women's Motocross Association championship. And for 2009 she has earned a factory ride with the Honda team. What makes this young woman's story especially remarkable is that she is deaf. Porterfield, 32, holds three land-speed records and is a member of the Bonneville 200-mph club. She was named the 2008 AMA Racing Female Rider of the Year.The number of women riders in America is growing daily. In 2003, an estimated 9.6 percent of the motorcycle owners in America were women. For 2008, that percentage was estimated at 12.4 percent. There are more women in motorcycling than ever before. But every woman, from the very first who slid onto the seat of a motorcycle to the Fioleks and Porterfields of today, has made a contribution to the world of motorcycling.
from the Fourth AMA International Women & Motorcycling Conference in Athens, GA, 2006
a 23-minute AMA-licensed DVD featuring highlights of the 2006 AMA/FIM International Women & Motorcycling Conference can be ordered at
WomenRidersNow
or by calling (406) 333-4491.
---
Women in the AMA Motorcycle Hall of Fame
Women racing motorcycles in Los Angeles, 1949.
In 1915, Indian motorcycles offered front and rear shocks. Since these cushioned the ride, people began to consider long-distance travel as a real option. That year, a mother-daughter team, Avis and Effie Hotchkiss, rode from New York to San Francisco. They didn't take the direct route. Instead, they meandered about, covering 5,000 miles.
The next year, two society women in their 20s, sisters Adeline and Augusta Van Buren bought a pair of Indian Power Plus Bikes. They were the first people ever to climb up and down Pike's Peak.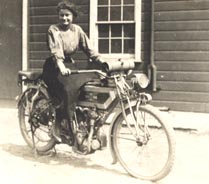 They, too, completed a transcontinental ride. Their 3,300-mile trip took almost two months, and they had to contend not only with many unpaved roads, but also with social mores. Once they were arrested for publicly wearing trousers. Both women are pioneers for women and women's rights. We can all get inspiration from these early women riders. We at GGMC are very proud to to be a part this history.
Recently I had an email from Dan, the grandson of Adeline Van Buren about their ride and has offered to allow us pictures of the two women and their ride. We look forward to showing these here on our website.